TWTW…WAW! – Revisited (#5) – Go Topless
Written by Prim on 09/10/2021
Rummage, rummage, nurse, nurse – old shows, writings, clips – from fool at variable radio stations.
This news item and audio clip goes back to 25 August 2012 with Radio Indochine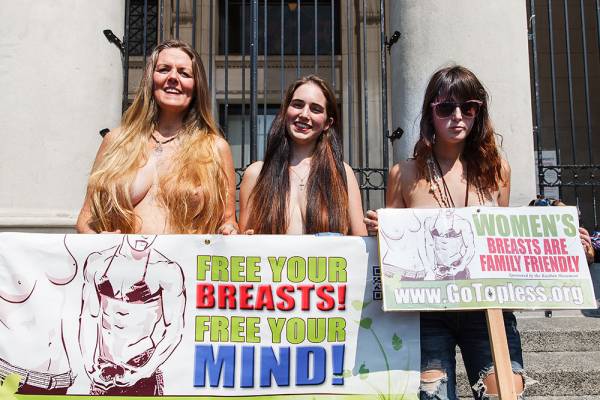 !
Go Topless – script
Soundbyte – Nina!
'Get it off your chest
Across America civil rights group, Raelians, demonstrated what they believe is their constitutional right for equality by staging a Go Topless Day, which in its fourth years has spread to 13 states.
Born from the idea that humans were created by advanced scientists known as the Elohim, Raelians lend their name from an inspirational Frenchman called Rael, who once a racing driver turned journalist was visited by aliens in 1973 thus propelling himself to messianic heights.
In a bid to create credible authenticity to this cause the group reversed roles and urge men to wear bras or bikini tops; spokesman Lara Terstenjak explains,
'To have a guy supporting equal rights by wearing a bra is an honourable thing to do.'
Annually staged on the Sunday closest to Equal Rights Day, which falls on 26th August, the campaigners bid to mark next years date, which by coincidence falls on the 26th August, and plan to rally a 'Two Million Boob March', which in all sense and purposes should arouse a healthy male participation.
Lara was surprised, yet welcomed the amount of men that came in support of this heaven sent event. – That was last year…
Soundbyte – fuzztonez
Song 6: Frank Sinatra – It Was A Very Good Year
Frank picked up a Grammy for this in '66 for best male voice – he sings it in D-minor, I don't know if you noticed… Ervin Drake penned it in '61 – but loads have covered it from Lonnie Donnegan in '63 to Statler and Waldorf from the Muppets, but my favourite was Homer Simpson's parody, "I Drank Some Very Good Beer", recounting the first beer he ever purchased (with a fake ID; his name was Brian McGee) and he "stayed up listening to Queen."
Background info to TWAW…WAW! here
Durban's Bread – Prim's best selling novel – a tale of attempted murder and its consequences – a black comedy that will affect your morals
Previous TWTW…WAW! revisits…
Intro from 'Years' August 2012
Rock n Roll Capes from 'Years' August 2012
fool's thighs, Peter Kay Corner, Non Descript Trivia Moment & fool's Gold – Aug 2012
News item – Letters and 'Smells Fishy'
---