It's Time… Pt25
Written by Prim on 30/09/2022
But it's gonna be… Directions
This way

that way

anyway

but…
'Yes, there are two paths you can go by, but in the long run you'll probably need new shoes'
Les Dennis

Postie Prim and his Black & White Dog head East… no West…
In 19 O' Chocolate on the road to Damascus, which happened to be Heidenheim in Holland on route to Durban, South Africa. I ended up in Deptford, SE London.
Door to door and farm to farm I knocked looking for work, alternative lodging and the way to Amarillo (yikes, von fluckupsen, next chapter, sorry). Each knock edged further away from the campsite where home was a dilapidated fold away caravan, half folded due to lack of supports. The torn canvas draped over the support skeleton like a humongous pair of discarded mustard coloured underpants. With no workable stands a level playing field was a lottery on the side of see-saw.
Four hours into the peddle-pursuit of the Promised Land sea gulls began to hover. Searching, eye balls tuned, nostrils flared, on the hunt for chips. 'You won't get 'any her you ol' sky dogs', Thinks I. They'd be French Fries anyway, which are Belgian by origin, 'I don't have any, yer Stuka dive bombing tea-leaves. Swoop elsewhere, you filthy pig-dog-air-swine. All I have is half a frikandelle in my haversack and that's for me and my dog… when I get a dog… you dogs.'
Cycling on flat paths, a subliminal call of the squawk beckoned. The ride easy on a stolen sit-up-and-beg green push bike stuck in 3rd gear with peddle-back brakes. I still feel guilty now, who's ever that was in Amsterdam, I'm sorry. Damned religion.
Blinded by endless water-fed vegetation, windmills, dykes, straights and cheese, the road was bewitching. On the back of the gulls hark I subconsciously fed to the coast. There in a peaceful vagueness of a distant morning haze lingered a ferry. My ferry. Fuck Damascus, I'm going home.
In what had started as a jaunt to South Africa via Holland and any other workable country heading in the southern hemisphere direction, I ended up back at a flat in Deptford and a debrief with reality. 30-odd years later endless number of folk, well two, two I say, two different people on the street are asking me for directions as I wear my Royal Mail Hi-Vis jacket, like a beacon of the way. *'When the rider follows the gulls, (I say), it is because he thinks he knows his arse will be different from his elbow.' 'Thank you very much' 'You're welcome'.
I bid good day and continue my route. The Royal mail must get through. (We are back in the modern day now folks). On three corners, three I say, three different corners there are three different houses with three different American WWII jeeps, 'Aye up mate, here you go' I greet one, handing over the mail to a man emerging from his jeep which was bedecked in camouflage. How did you see me? I look at Cherry. Cherry sniffs. I look back. 'We didn't'.
Five or so hours of flip-flopping on the roads, paths, driveways, gardens, slugs and the odd small child who doesn't move quick enough, your feet end up like two splayed blubbering seals.
STOP PRESS: Operation Caravan for the new radio studio is garnering pace…
Sub Note* must buy toilet seat warmer for the house.
At this stage of seal feet, steps become hazardous. Misjudging the height of a step lands a jolting foot sending ripples of bone shattering jars up the spine. Hallucinations start; in more than one house recently aliens reflected in windows. Apparitions. Cherry's winter thickened coat pricks, she stands poised, like a toilet brush on the hunt for she knows not what. We move on.
Folk start strange conversations, I handed over what looked like records, square and record shaped (ugh!) 'I order vinyl records every week' Says a balding man in his fifties, his brown woven cardigan nonchalantly unbuttoned to its last two. Through the half opened door he continued to pour out his unwanted soul, 'I must have thousands. I'm the only man on this street who has vinyl. ''Oh, what are these?' I ask with a his prompted hint of curiosity, 'don't know, classical I think', he stares indignantly, followed by, 'Who are you?' 'I'm the postie and this is my dog.' Cherry puffs on her pipe, cannons skyward a small explosion of smoke and licks her lips. 'I haven't got time for this,' says Mr. Indignant, 'I have Eric Cantona on the phone.'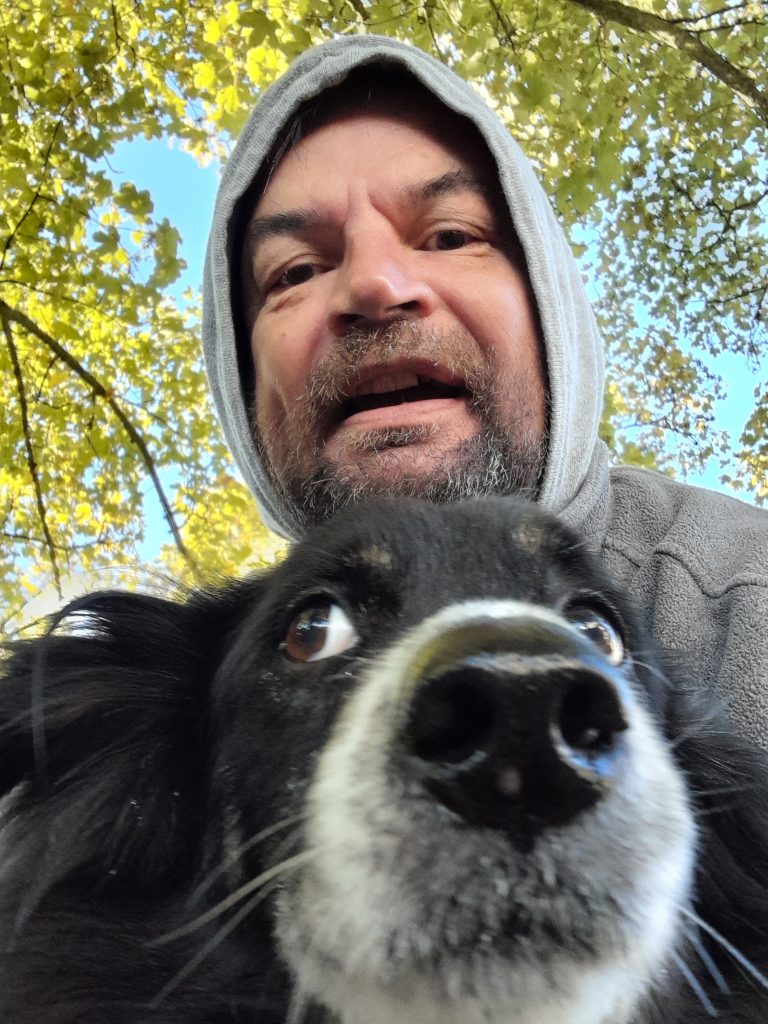 …I've been to Lancashire, but I've never been to me…
The unexpected food bit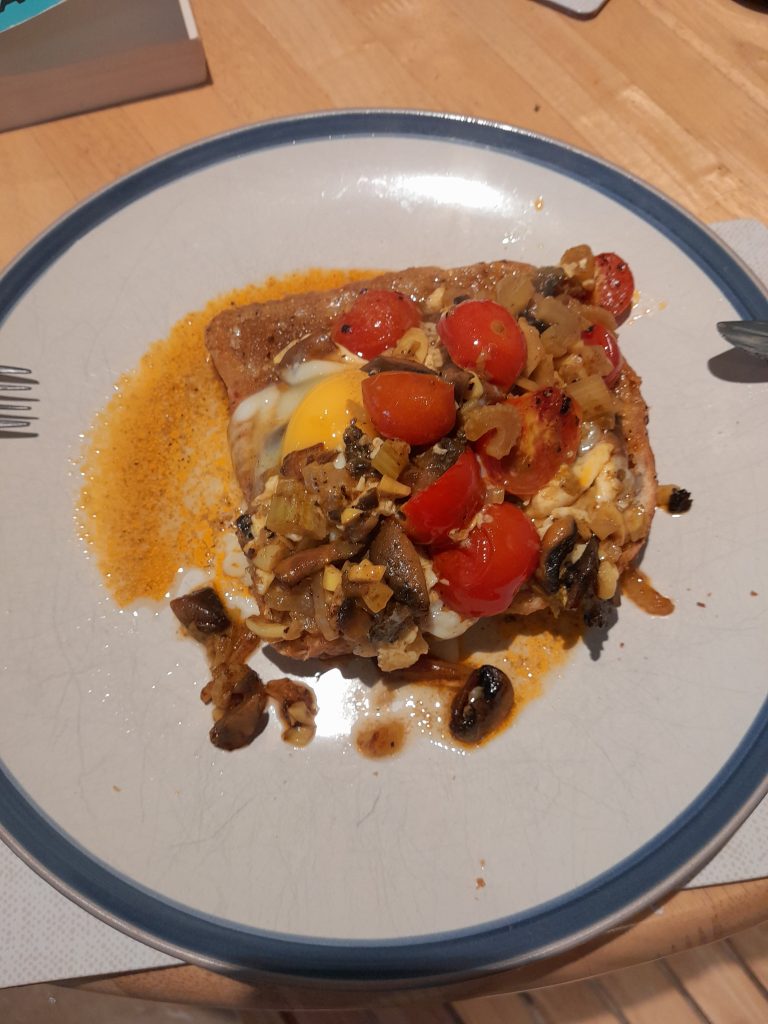 For reasons of having to get up and go, I've been missing the end of TV programmes. This week I missed the end of Rick Stein's French Odyssey and his eels. Then Colombo was about to nut the murderous secretary. If I miss any Keith Floyd on a baron hillside de Española I'll be forced to make more of my own paprika eggs Allah sick on a plate with turmeric.
Note to self on the ever changing weekly menu direction
PRIM: Spag bowl (not bol) on a Tuesday…?
CHERRY: You've changed'.
Delivering to a mini supermarket I got chatting to the manager Mary who is Malaysian, I know because I asked if she was Thai. We discussed Thai Tom Yam Soup, 'so good on the cold days to come', 'To come, they're here you swine' I thought, out loud as it turned out, 'I can't eat swine, I'm Malay, I eat nasi goring and laksa lemak.' 'Argh yes, like Mark Lemarr without the spice' She looks. I look back. 'Can I use your toilet?'
In other news
Shinzo Abe, Japan's assassinated Prime Minister (8 July), finally got his, and very controversial, State funeral this week amidst intense opposition due to his connection with the Moonies.
I don't know where this is going, much like the huge donations folk give to that church. But I do know lots of folk from the Far East, and all very good chums they are too, and I've never been there, Japan to be specific, yet the Far East could be in the West depending where you start from.
Directions, it's all about where you're going, at what speed and whether the other train left at the same time.
Either direction, It's Time… is steering increasingly back towards crazy fool's newsround and That was the Week… What a Week!
Somewhere a French accent crackles over a phone line to a silent room.. 'Do you have, 'ow you say, a copice le Durban's Bread, ze soundtrack? ' ello… 'ello, zoots de loaf… 'elloo'.
Bristles of black and white fur-dust sprinkle on a stuck record playing a classical masterpiece… playing a classical masterpiece… playing a classical masterpiece…
*Cantona, my arse – this quote was c.'89

Till next time folks… keep 'em peeled
Pip pip, ding-dong and ticketyboo
Keep the world turning, keep it wheel
Prim
It's Time – But It's Gonna Be… is brought to us by Durban's Bread
Also with our good chums Chow Pet Foods
---