It's Time… Pt32
Written by Prim on 25/11/2022
'A fine fellow, his waist started under his armpits'
'Spike Milligan'
Postie Prim and his Black & White fat
Siting on the world's most uncomfortable desk chair forces you to walk life back into ye ol' pins every 10mins… hellooo feet, ooh man you fat.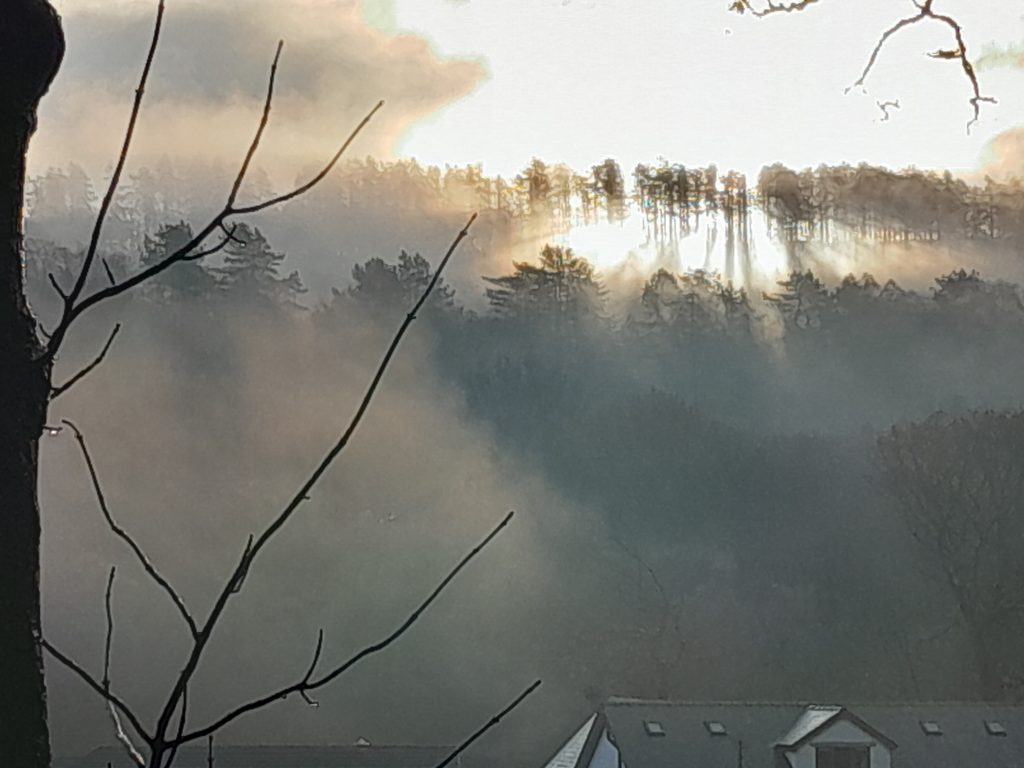 On the other of side of not what I was talking about… mosquitos are out there, I swear. And not the Jock midges prone to these parts. Recently spotting one as fat as a house in the office, I spied another, fatter, hovering round the back alley, nurse, not the back ally. Sitting there it was, mid-air, in all its menacing glory, needle protruding, looking straight at me, defiant. You're a mosquito I said, and off it buzzed.
A female would've gone for the kill, whereas males tend to just hang out. Mozzies I'm talking about. Kids, we've got a new pet, meet… oh, he's gone.
I've just returned from a dog trot in winter's baring woods. Their leaves all but carpeting the sodden Somme-ridden mud. Clusters of bare wet tinged skeletons stick up from the ground, reaching unending to a darkened horizon. The wood very much distorted by their trees. I return and settle down on the world's most uncomfortable desk chair and notice a mozzie bite on my knuckle, fat as my fat sausage knuckle and getting fatter, 'that's mozzie' I says pointing to the ever spreading fatness, 'mozzie, a-la SE Asian tropics style. Cherry, they're out there, I tell ye…
back with ye wood

thank you
But how? Rain and coldness a have filled the air this week. I know it's cold when a local starts to wear a jumper. It's equally off putting when they keep saying, 'when it does get cold…' what do you mean when. Mind you, I've just bought a new pair of golf Slazenger quick-dry black shorts that set of the flip-flops rather dandily.
Chicken stock, olives and cold cuts.
But I digress, for back in the postie bag we delve and me and Cherry have been to the fat of the land. Ooh man, it fat. Collecting stuff from clients who make stuff. They're there, intermingled in the City's arteries. Wedged between terraced houses, industrial parks and the City veins lie businesses. Brazen and bold, hidden in the nooks and crevices of its origins. All producing stuff; balloons, chocolates, printers, books, coats, clothes, spices, all manner of delights all bound for yonder spots of Blighty and across the globe. Down narrow streets and tight corners, distributed off of loading bays, front doors, passed down from high above second stories by chain gang, hand to hand, standing on different levels made from pallets. Brethren making our Christmas tat and wonders. We load up job to job and take to the mother ship who sort and distribute around the world. The mother ship is a beast. A couple of football pitches in size with snakes of conveyor belts and thousands upon thousands of laden trollies or yorks as they're called, all crisscrossing, man-handled across the floor like bees delivering their goods. Its mind boggling how it works, where they go, who knows what the befuddle is actually going on. It is a wondrous thing inside the beast.
Cherry's not allowed in and sits outside knitting and smoking and thinking.
Talking of Christmas, I can't wait to sit down with a bowl of nuts, ale and binge watch Magnum, Colombo, The Sweeney and Professionals.
Meanwhile, back at the ranch Cherry has been scribbling… 'Dropping the pad on the wooden counter surface, she wrote: 'MURDER PLAN' and underlined it, in the margin she put a capital 'A' and full stop, 'HOW TO KILL VICTIM IN HIS OWN HOME AND MADE TO LOOK LIKE SUICIDE'. She underlined that. It was a bit of a long title Prim thought. But he liked it.'
'Hey, that's straight out of Durban's Bread, you've just change the he to a she, and Jax to Prim' 'Shut up and drink your milk' barks Cherry.
Can it be, has it come to this, is Cherry now making plans (for Nigel?) – what happened to her impulsive hits?'
'I'm hunting mozzies. I'm a mozzie hunter, you in? And stop talking out loud, the readers can read.
by the light of…

… the burning bush

a cloud under a cloud
In other news, a Korean TV company and British Telecom in Qatar are staging protests across moan-media after being shunned from holding… well, anything at the FIFA World Cup.
Till next time f-f-f-folks… keep 'em peeled
Pip pip, ding-dong and ticketyboo
Keep it turning, keep it wheel
Prim
It's Time – But It's Gonna Be… is brought to us by Durban's Bread
Also with our good chums Chow Pet Foods
And guest appearances from The Cricketers Arms, Brinny & Citrus Wagons
If you'd like your name here in lights contact me here for more info
---