Durban's Bread Snippets (#4) – Albino Welsh Jew
Written by Prim on 16/09/2021
Things are not always as they seem…
From a distance I saw a giant pair of red knickers hung between two trees… 'big lass', I thought. Edging closer I could now make out their black lace trim. Closer still and as suspected, a blanket slung diagonally for shade, but what I couldn't make out until right on top of it, was the black netted hammock, swinging gently in the breeze underneath.
Same could be said for Tekweni backpackers in Durban…
This extract from Chpt 2 reminded me of those knickers or perhaps it's the other way round…
Durban's Bread on sale here
'…Obedience was naturally rewarded; a grapefruit schnapps and woe betide any excuses.
Though bordering on lunacy, Mick's strict regime resisted acrimonious pomposity. Elbowing people's personal space on their voyage of discovery was not Mick's bag, unless of course they left lumpy pasta pans in their wake.
The backpacking crowd consisted more often than not of youngsters on a year out, a world trip. There came with infrequent unpredictability the odd ageing generation keen to re-live a youth denied of travel, having been shackled to a lifetime of work. Twice in Mick and Jax's 'tenure' octogenarian couples passed through bent on global j'ouvre faire. The occasional budget holiday-makers occupied the private rooms and on less foreseeable episodes the establishment unwittingly harboured those on the run.
For a brief spell a robust 50-ish year-old self-titled albino Welsh Jew plied his lodgings as the hostel's handy-man. Permanently bedecked in a red lumberjack shirt and thick black beanie, he staunchly omitted his name, only ever referring to himself as, 'the albino Welsh Jew'. Interpol came for him while he was fixing lights over the pool table. How they recognised him is still a mystery. One minute he was humming, '…if I was a rich man daidledeedledaidle…' with a 40w starter plug wedged betwixt teeth, next he was whisked away by the Thompson Twins, never to be seen again. It's rumoured the lights have never gone out over that table, and during a stormy night they hum to the tune of Men of Harlech and light-up like Cardiff Arms Park.'
Durban's Bread on sale here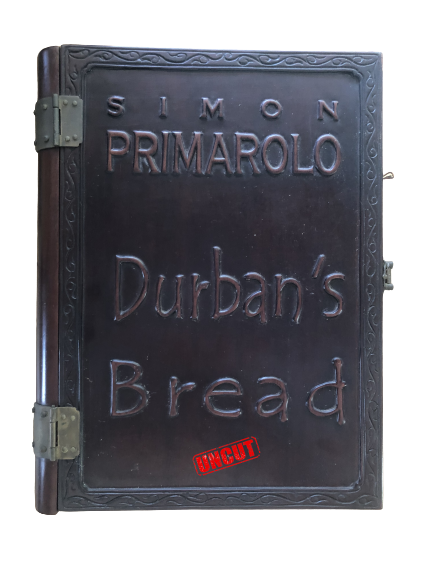 Intro – 'Teagate' – Mick has a cup of tea…
Part 1 – text and audio – 'Flying in the woods'
Part 2 – text & accompanying track – 'Red Eyes'
Part 3 – Video – 'Jax describes his demon'

---