IT's Time…
Written by Prim on 24/12/2021
But It's Gonna Be… Wild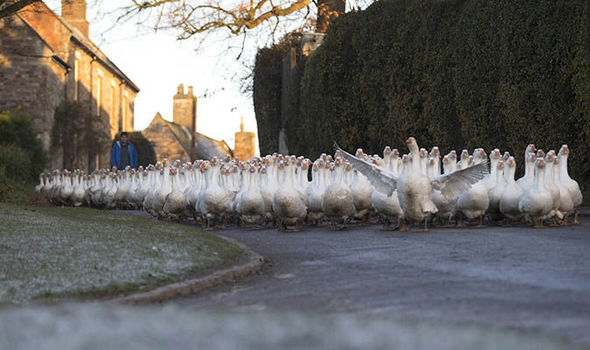 A Sri Lankan/English, a Nepalese, an Englishman, an Aussie, A Canadian, A Dutchman, A Saffa-(Is-it)-Dutchman and a Yank walk into a pub – true story so far – 'who put that there?' Wails an Antipodean brogue as they pick themselves up off the floor. Oh, they get worse. Alternative ending, and as old as the eels, Blah, blah, blah walk into a pub, and the doorman says, you can't come in here without a Thai. Ok, enough, enough, arve, mange-tout, sacre-Gordon Blue, toute-schweeet.
The disheveled group dusted off the drab lackluster stab at jest, and settled around the barrel full of thirst. Poking around the fineries of attaining Goose for Christmas, its fatty coating rose to the fore. Whether the goose could have toned its bulk on say a march from Norfolk to London, as in the olden-golden days fit for a Dickensian fayre, was a notable shtick for a seasonable yarn. Donned in their wee leather boots, which protected the geese feet on its 100-odd mile stomp. While the duck companion was swanky enough to have its feet tarred. No doubt in a flip-flop design. Somewhere in the amber nectar fuelled slosh a kangaroo's lifespan made the gravy. I reminisced, to myself, on a singing catfish I named Elvis, who lived in the lake at the bottom of my where Jimi Hendrix used to hang out in the old plays; 'It Is Him' featured in bygone radio day's show; That Was The Week, What A Week, but that's far too complicated to explain.
Ponderings, in my cranium at least, mused meanderingly amidst the wild life of cross-divisions betwixt Blighty and SE Asia. The obsequious mozzie shall not be missed, there's a war worth fighting. The goose are ten to the dozen, monitor lizards outrun a tortoise, water buffalo, de-spot a cow and the other day I saw a group of red and blue scarlet Macaw parrots flying in circulation… which was nice. Now, you don't see that every day in the puffy and wispy skies above Chorley High Street.
Right, that's enough talking turkey, which in essence is about money, fun tickets, filthy lucre… hold the front page, we're not having turkey this year, which has nothing to do with Aztecs condoning a turkey hunt on account of it being a fit only for a lazy past time rendering it akin to shooting Elvis in a barrel, oh no, herding feral cats hot on the hoof from a retractable python is far more rewarding.
Whatever you're gorging on this Christmas – make it Merry
Peace and Love and keep it turning, keep it wheel
It's Time – But It's Gonna Be… is brought to us by Durban's Bread
---