It's Time… Pt29
Written by Prim on 04/11/2022
But it's gonna be… Nice'
' I'd drizzle in the morning I'd drizzle in the evening All over this land I'd drizzle out danger I'd drizzle out a warning I'd drizzle out love … '
'Peter, Paul and Hairy'
Postie Prim and his Black & White Dog do it nicely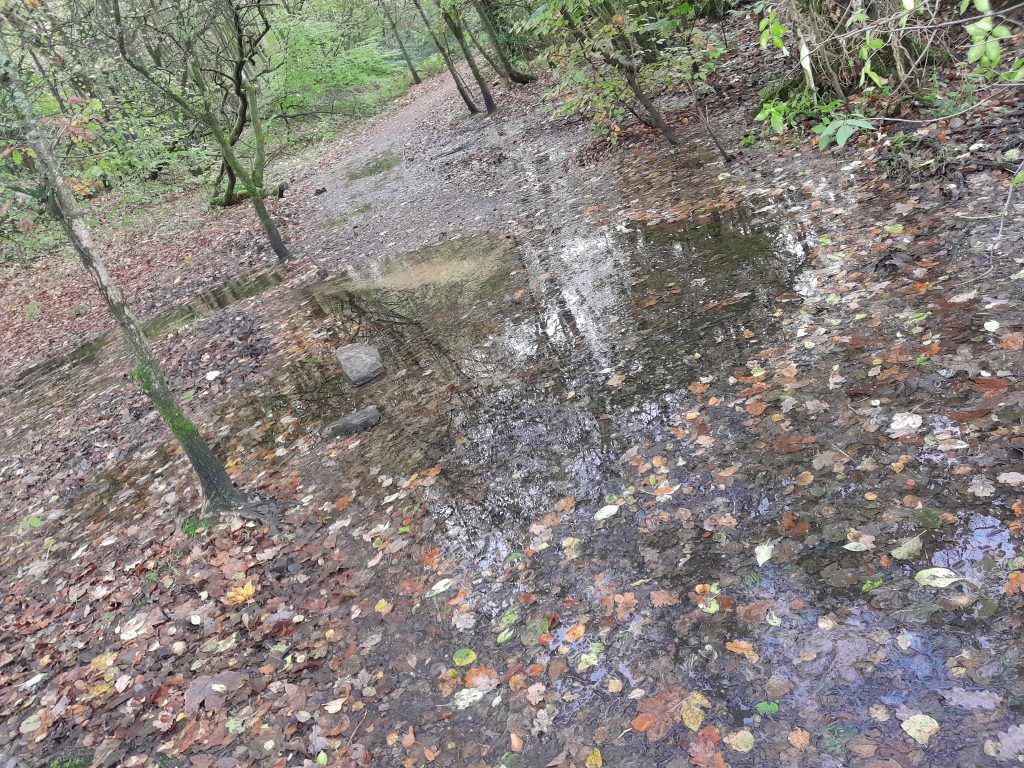 Once more unto the drizzle my hound, once more. And off we trot through the canopied wood.
Out the back gate, piss in the same place every morning. Cherry that is, I use the same place but indoors. The neighbours watch prepping their early morning brew. Cherry that is. I stand waiting, my long shorts blowing in the breeze. Flip-flops curled. Sprinkled, tinkled and off we trot. Over the road, through the park, round the mole holes, past the concrete like tree stump, across the dry jetty and into the wood's sheltered overhangs. 'Only droplets will catch us here me ol' Cherry lass.' We stop to peruse the flooded muddied path. A droplet falls on Cherry's head, unperturbed she wades knee deep through the murky spill keeping her pipe baccy dry above the splash. I wonder how Robin Hood and his merry hoard liked the November chill. How the Witches of Pendle would probably have liked a good fire and how soldiers in the First World War's mud of Northern Europe looked forward to that great big looming footie match in no-man's land. Cherry has a pooh.
Cherry would think you're mad trying to take her for a walk in Thailand in the rain, in the warm rain, albeit a lot they've had lately. In Blighty'sville her rain resilience is reborn, wet, cold, puddles, sheep, witches, she's all for it.
At work the fine drizzle gets fatter as we deliver His Majesty's mail. He lives in a town north west of England. He likes lemon drizzle cake. He does now.
Damn, my socks are too tight. Argh, that's better.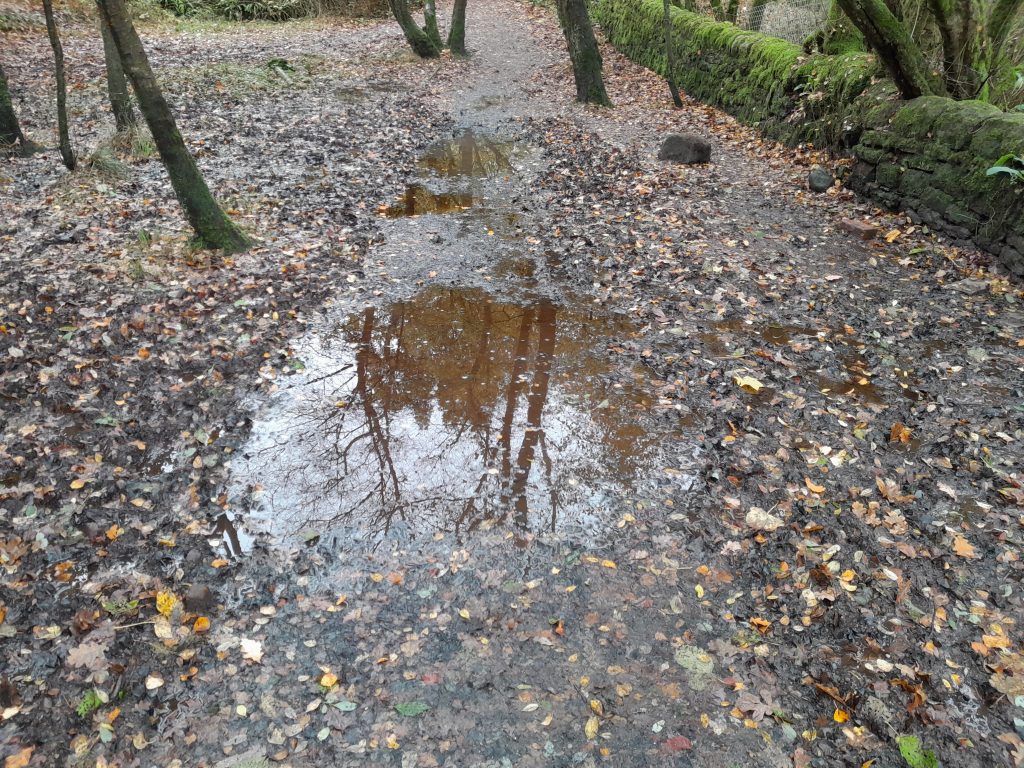 It is All Hallows Eve and all manner of decaying flesh is dripping from various body parts. Of the fairer minded, Angels star-studded flutter-by wings flash in the nights mizzle (drizzle with an m). We're onto our last drop. A grin-brimming lass opens her front door before we get a chance to ring the bell. 'Oh, hello, I was expecting someone else.' 'Sorry, I'm still me.' She looks. 'But then maybe I am someone else. I'm new in town, Johnny come lately.' She looks. 'Covering for someone I suppose. These are yours I think, though it says Dave' I hand her two parcels, records, Return to Sender written across them, must be Elvis. 'Yes,' She smiles, grin transfixed. 'Are you enjoying it?' She looks through me, then around me, then over me. Am I still here, can she hear me? 'Yes, it's great, it's nice here. 'Oh that's wonderful.' Her attention elsewhere. I notice the strap of her lanyard. She's trained. Nice is her gig. She's been nice all day, now her super niceness has traversed seamlessly into overtime, working out if the relief postman's happy to stay and chat about Burnley's quintessential industrial architecture structure built on brick, cotton and bone is a revolution set in stone and slate or if it's really a Chinese fake, or and the other or whether he's just autistic and needs to be looked at with a tilted head and smile. Her monotone politeness is equally accepted by his quizzical lean towards patronization, or and in turn, whether she's just a nutter. 'Yes, it is lovely… oh, is that you?' I point to the name Dave, 'yes that's me.' Oh here's Dave now, her transfixed grin curdles. Dave, Dave me thinks, two Dave's, how many Dave's? 'I'm Dave, and yes here's Dave now as a 6 year-old princess suddenly appears in a dull yellow glow of a security light. Putrescent goo oozing globules of moving rotten flesh. Cherry's hairs frizz. Dave grins, other Dave. Dave is a bent over gnarly man in a stained pinned striped shirt and worn tattered brown cardigan, undone. Under his flat cap he vomits a soup-sea of maggots and blood. 'Burnley, yes lovely, it's…, like yikes Cherry let's get out of here… it's lovely, very lovely, very nice…' Our cries lost in the blue night's distance… 'Get in the van, quick' Cherry's in the driving seat, 'move over Cherry, quick Cherry quick, they're gaining on us…'
last drop

that you Dave?

quick, get in the van
Which was Nice this week
Drizzle cake with lemon, which was nice. Which Was Nice bloke from Fast Show, which was nice. Jaaaz, niiice, also Fast Show which was nice. Seeing pals from Saigon not seen for 12 years was very nice (why didn't we take any pics!?) CC's Kitchen scotch eggs are super nice. Citrus Wagons rum jellies at Cricketers Arms Halloween bash was velly nice. Loud Minority, Saigon hosting Jack White on 10 November… how frickin nice is that. Cherry thinking after all these years tying laces on your flip-flops is one big fun biting, rolling, tail wagging game, which it is, but takes half hour to put them on. Phuket, send more Chow Pet food now! And new winterproof dry flip-flops is super nice.
We'll be talking a lot more about our chums above over the coming months, which weirdly all begin with C – which is nice
It's officially Movember so there's a good to reason to be nice… or not – don't care.
Crickey, how many links this week? Which is nice (ooh, where's that one going… duh, Durban's Bread of course!)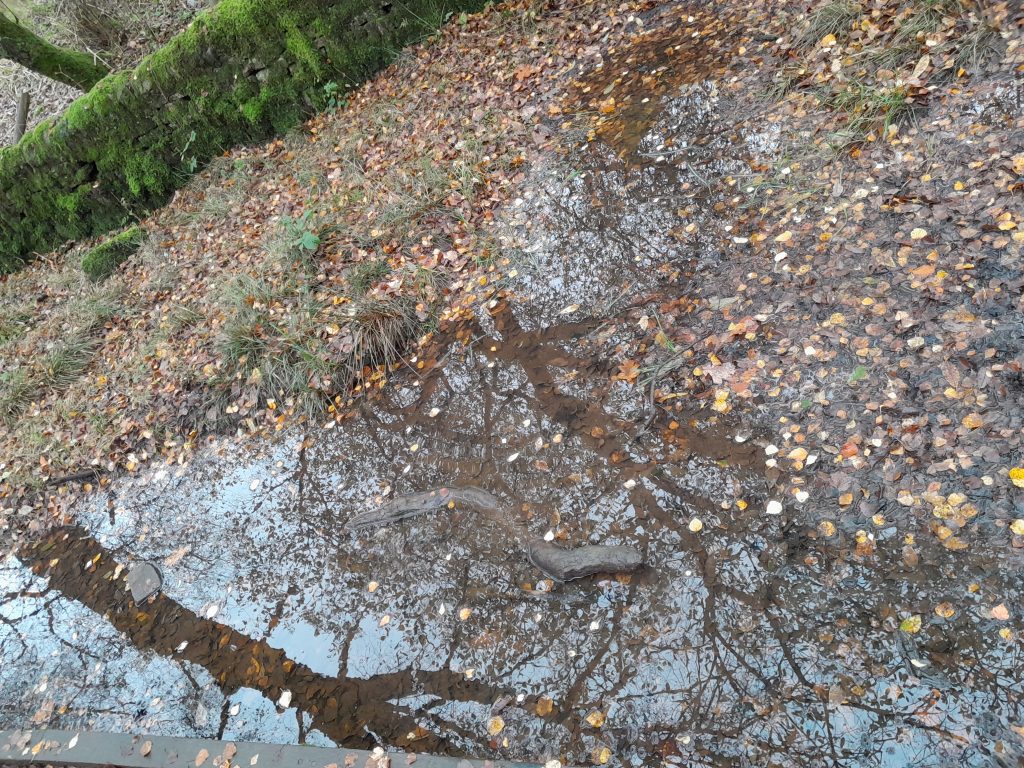 In other news
Will Eng bt NZ in the T20 World Cup to keep their hopes alive… watch this nice space… they did and the Tourney is shaping up nicely… Ireland's beating England's, India's beating Pakistan's in the most bizarre fashion and Imran Khan bowled in the googlies by a stray.
It's official, magic mushrooms do alleviate depression. A notion held by Joe Public since the dawn of time. Secondly motioned through extensive medical research resulting in a bona fide stamp of approval. Whereby England's new King has commissioned the psychedelic compound psilocybin issued as a lottery on one in a dozen stamps. Cherry, next week we fly to work.
Cherry summons…

… a carpet of leaves
And lastly the world's dirtiest man has died aged 94. Iranian Amou Haji (Uncle Haji) gave up washing 67 years ago when he lost his last batch of mushy's. He was internally clean and healthy, free of parasites and had an excellent immune system, well you would living on raw roadkill and smoking animal excrement. I won't show pics, you can look him up, but his hands were like gorillas; tough, leathered, wrinkled.
Somewhere a fine dusting of black and white fur catches the winds revealing the faint outline of a purple strap clipped to a name tag; a full D and the lower half of a small a still visible.
Till next time f-f-f-folks… keep 'em peeled
Pip pip, ding-dong and ticketyboo
Keep it turning, keep it wheel
Prim
It's Time – But It's Gonna Be… is brought to us by Durban's Bread
Also with our good chums Chow Pet Foods
And guest appearances from The Cricketers Arms, Brinny & Citrus Wagons
If you'd like your name here in lights contact me here for more info
---