It's Time… Pt10
Written by Prim on 13/05/2022
But it's Gonna Be… Fed by Probability
Coming Up Alien
Moulded together, it's what it has to be. Mould, manipulate, combine and produce. A harvested production of ideas. Should there ever be a niggling spelling, yet no doubt to its meaning, then mould irritatingly festers every time. It's the 'u' you see, a complicated statement only when heard and not read.
What be moulding here then? Why, It's Time… But it's Gonna be… and its travelling chum, Prim n Cherry Go… wherever their travels take them. These previously separate entities, the titles, not dog and man, now find themselves journeying in concerto. Dappled by dots from the same page, wagged by the tail and mastered by the boot in unison. Pip-pip. Cherry's gallivants have intermingled with his master's… all hail… or is it galavant!
Prim (the master) and Cherry went north, by road, 6 hours North, to the North, they headed North.

Jobs to search. Mad info these days. It unfolds immeasurably online at the click of a shared document. Spillage of gargantuan delta-like placements, generated by numbered-aliens logged into an algorithmic world, flooding our cyber space with flimsy strands of likelihood. Specific input into 'computer says no' churns sporadic results; driving this, data analyzing that, you fit this, your search recommends that – a systematic numbers game nurtured to every single situation the world allures to because probability states. Forces visit, sneak in, infest, steal souls with unwanted advertising pitched to a level only dogs would normally hear, only Cherry's got a slight ear infection. There was a time when all you had to do was search the classifieds in the local free rag.
Moving on with no discernable link; Vets bills are big. Cherry's avoidance is bigger. Vets have call out charges when you visit them, same as mechanics, 50 quid just to put the car on the ramp. I bought Cherry a jack. SE Asia's over the counter culture is great. No one knows what they're getting, but it's cheap.
Call out charges are fixed to everything; plumbers, dentists… I'm sure there must be home dentist visits… ching-ching. I think I could be a call out. Not sure what I'd do, not sure there has to be anything specific, just be a Call Out. 'That's 50quid mate.' 'Oh great, thanks. And that's it is it? You're here and so, that's that, right ok, so we're done?' 'Yes mate, that's it, I'm just the Call Out man.' Ok, well great. Thank you.' 'No, I thank you.' Then off for the next Call Out. No one home, but they called for a Call Out. 50 quid paid automatically via the app. Brilliant. Obviously I'd get heaps of call outs, because I'm the Call Out guy. Strangely though, I also get heaps of job offers to be a Veterinary Surgeon. How that algorithm meandered through the delta is a tricky one. 'Oh I'm sorry but I called a vet.' 'Yeah, sorry love, I'm not a vet, but I am a Call Out. 50quid.' 'Oh right yes of course, here we are then. Thank you.' 'No, I thank you.'
If there was a Time Machine, I'd Call Out over to the Coolabah in Saigon for a swifty now – such is the power of advertising. The algorithmic mind alterations worked by Aliens provides endless opportunities.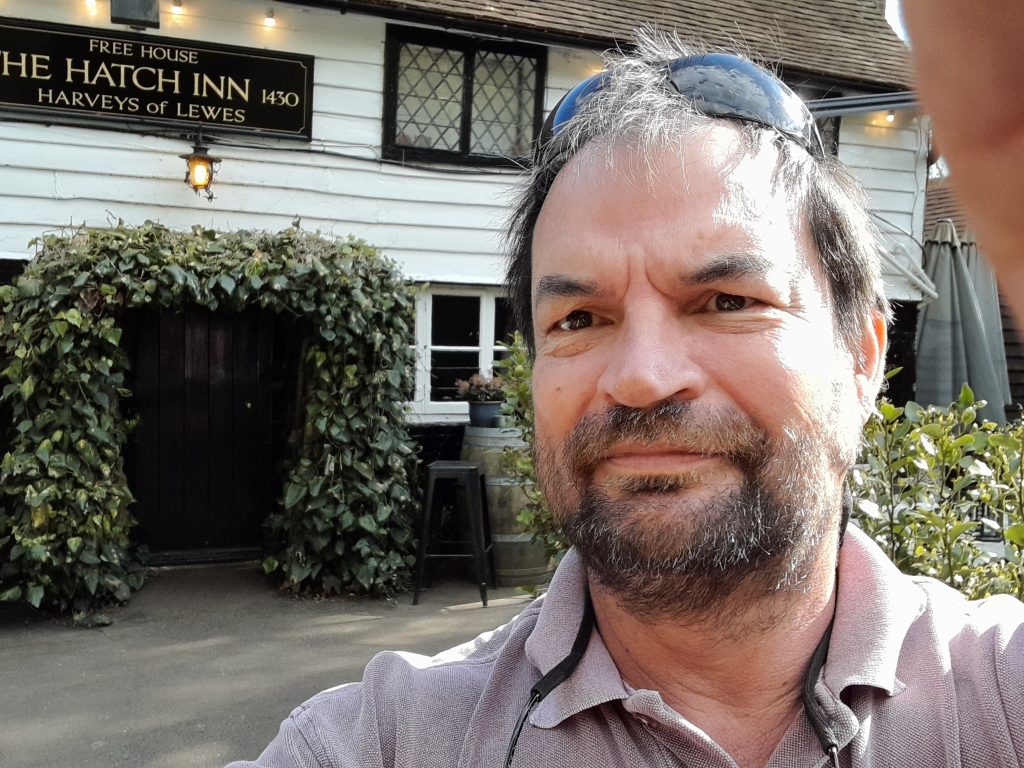 But let's get back to socks (ugh!). From zero to 101 pairs. I wear them with flip-flops – I am that scandal in a sandal.
Supermarkets have endless aisles of everything you never went in for (keep up). Sainsbury's or any supermarket is an excellent day out in the UK, but take a fleece. Amazing places full of Aliens at work. The most exciting buzz knowing whatever the Aliens feed into your brain, it's there; berroca, Vitamin D tablets, walnut cake, gala pie, shoe repairs and kippers for breakie.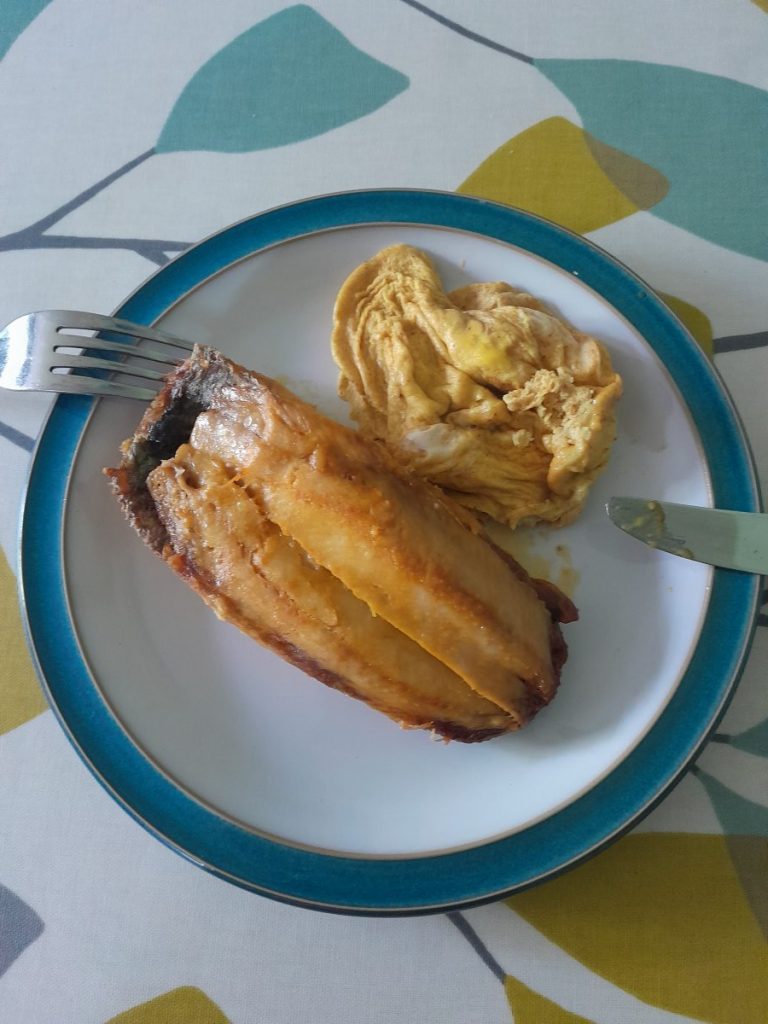 'Home improvement expert
Harold Hill of Harold Hill
Of do-it-yourself dexterity
And double-glazing skill
Came home to find another gentleman's kippers in the grill
So sanded off his winkle
With his Black and Decker drill'
Thank you Ian Dury
On this hearty breakfast Cherry, I and the socks effortlessly traversed efficiently round the roundabouts enroute to the North. E-by-gum. Damn, wrong county. Darn roundabouts. Amazing Thailand requires, by law, a complete mental breakdown when approaching these leading thoroughfares, so severe in some cases traffic jams have spiraled all the way back to Singapore.
Day 3 on the same socks, why anyone needs 202 is crazy (they grow, like aliens in the delta). We marched them to the dog shop, other animals are available. Me and the socks bought a dog lead, a dog collar and an engraved dog name tag, called a dog tag by the army. We were served by an orange person with huge fluttering eyelashes, who was identical to an orange person with huge fluttering eyelashes who served me and the socks in Sainsbury's Argos imminently prior where I bought a phone – algorithmic artisans at play everywhere.
Cherry's

Bondage
The items were for Cherry. She loves her pressies, so much so, she gave me two on our walk in the park. I am now a professional shite dispenser.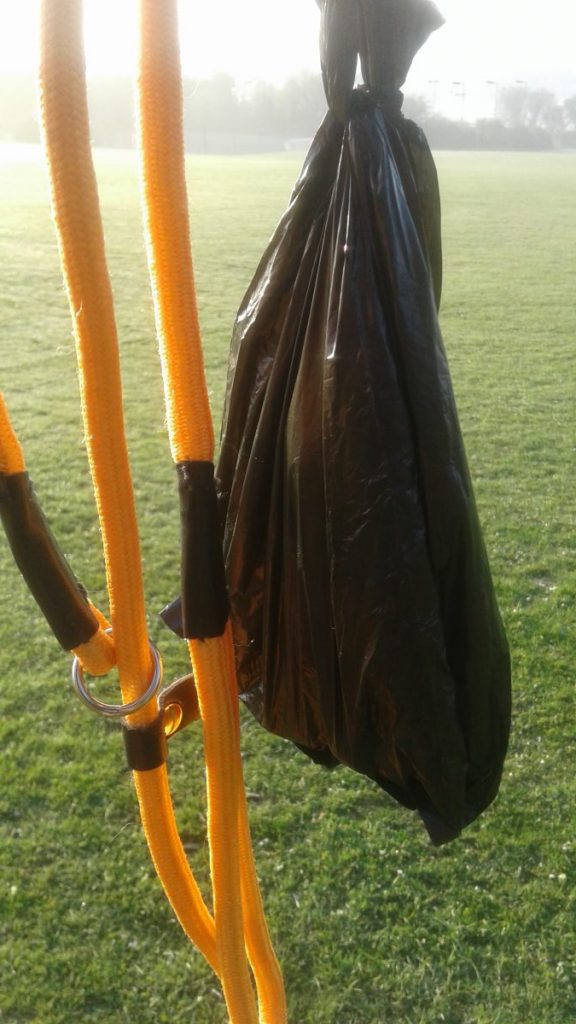 In preparation for the trip up North, I washed the bed sheets. Wrestling these sails off a cold washing line in a howling gale then stuffing a quilt in a duvet cover should be an Olympic sport.
I consoled myself by taking my socks to a garden centre to look for shoes. Turns out garden centres sell everything too. Bus loads, I like to call them people, come to look. Bigger than busloads of Chinese (people) at a 7/11 in Thailand. A lady, distinctly not orange, overwhelmed me with helpfulness. I cracked under shopping pressure, made my excuses and left.
I pack the car to go up North. Cherry watches. She's been here before. But not up North. It's time to get in the back seat. She stalls. She says she'll go in the back seat. I agree. There's not room for both of us and I can't reach the wheel. But she's rigid in her non-movement. I drag her by the collar, and haul her three seemingly light steps towards the car. Well that was easy. I look down… an empty collar. Cherry sits, collarless. I look at her, she half looks at me in defiance, half in boredom, half in agreement, and in her remaining eighth succumbs and does the hokey-cokey getting into the car. I help her in. Cherry doesn't do steps. We drive North.
We listen to TalkSport. Stop for two stretches. One aaarrrggghhh, and one ooohhh. Arrive. Walk. Go for a job interview on a hill. Another interview is on a smaller hill, so small, there is no hill. I ask if they have any hills. Will they be expecting any soon? If I get the job, will they get a hill? I got both jobs and drink to commiserate.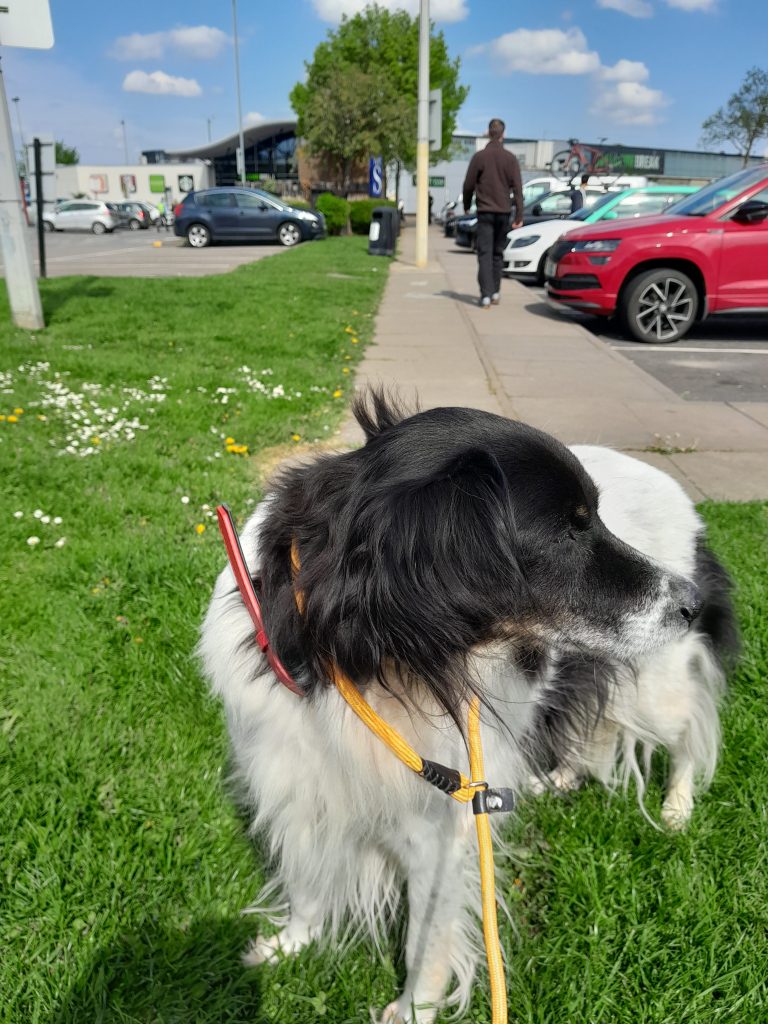 Next folks, Prim n Cherry Go South.
And so South did was. Back to delivering fish, in far flung places as Kent, Hampshire and the Sussex' coastlines. To the inner wealds of England's Garden of Englands. On to South East London's 'alwight Guv'na' lands where incessant chirps to a bustling cacophony of graft perforated the air. I had meant to do a tour of all these places for nostalgia's sake, but work ticked that box for me. I met Mr. Lal from Nepal, he was a jolly fella. Confirming Brighton is twinned with Bangkok, me and my white van of fish drove past a Victorian terraced house turned into a club. Now paint-peeled and worn, and plastered over its windows screamed big bold red letters that the Bangkok Lady Boys will be performing in June. Brighton's back street alleys filled with me and my fish and the now't as weird as folk who lurk in the best possible taste. The diversity of Blighty's hustling cosmopolitan to green leafed solitude swept over chalked hills unite with pudding, pubs, pissing and petrol, well they did with me, I've never eaten so many, was reunited with so many, did so much and spent so much and now Cherry and our socks are heading back up North again – crikey, the excitement.
Lush routes to work

a hill

a house on a hill

Captain Cod

a road on a hill

It's out there

Spitfires into the sun

a fish stall in Lewisham

Captain Cod with the ladies

a very old house

what!

France is datta way

Captain Cod up close and personal

a fishy van
Pip pip, ding-dong and ticketyboo
Keep the world turning, keep it wheel
Prim
More It's Time…
Similar stories
It's Time – But It's Gonna Be… is brought to us by Durban's Bread
Also with our good chums Chow Pet Foods

---