It's Time… Pt18
Written by Prim on 12/08/2022
But it's gonna be… TUNEFUEL
In Jelly
'If music be the food of love, pipe up Mr. Peter Pick a firkin Pickled Pepper' – (Shakespeare 15 O'Chocolate – on the 12th-night of a food porn bender)
We've come a long way since man, or woman, drew a great big buffalo on his, or her, bedroom wall then got the horn, or the… horn, (what would non-binaries get?) and started singing about it, 'Ugh, got me the horn on the wall, oh yeah, buffalo baby, got my horn on the wall…' and other such cavebotic belters of the day – available only on Grainy Rock Records, before your time.
Our association of food and song intertwine sloshingly fine on the gravy train. I used a potato peeler for the first time ever the other day. Wow, they're efficient. Even better, I used it on a real Maris Piper potato. (Somewhere a high pitched Irish twang sings, 'potato'). I sang with joy at the peeler's stripping ease and reveled in the potato's creamy taste. It's been a long time since my pallet piped a Maris. The waxy overpriced version from Villa Market in Thailand are good, but in essence, don't cut it – fact.
And sing we did, just like my parents sing in the kitchen and their parents before them, their parents, and their parents, parents and (hey how many Life of Brian references is bordering on a handshake too long!), and their parents sang all the way back to, 'got my horn on the wall, oh buffalo baby, yeah…'
Argh the great big…

…Maris Piper…

… in the sky
A friend on a recent trip to Blighty exploded a food-porn posting frenzy, so ridiculously graphic he probably should have been jailed. Who knew such mixes of meats and drizzles and fruits and melty and gooey things existed.
CHERRY: All I get is horse in jelly
PRIM: Hush hound. Keep peeling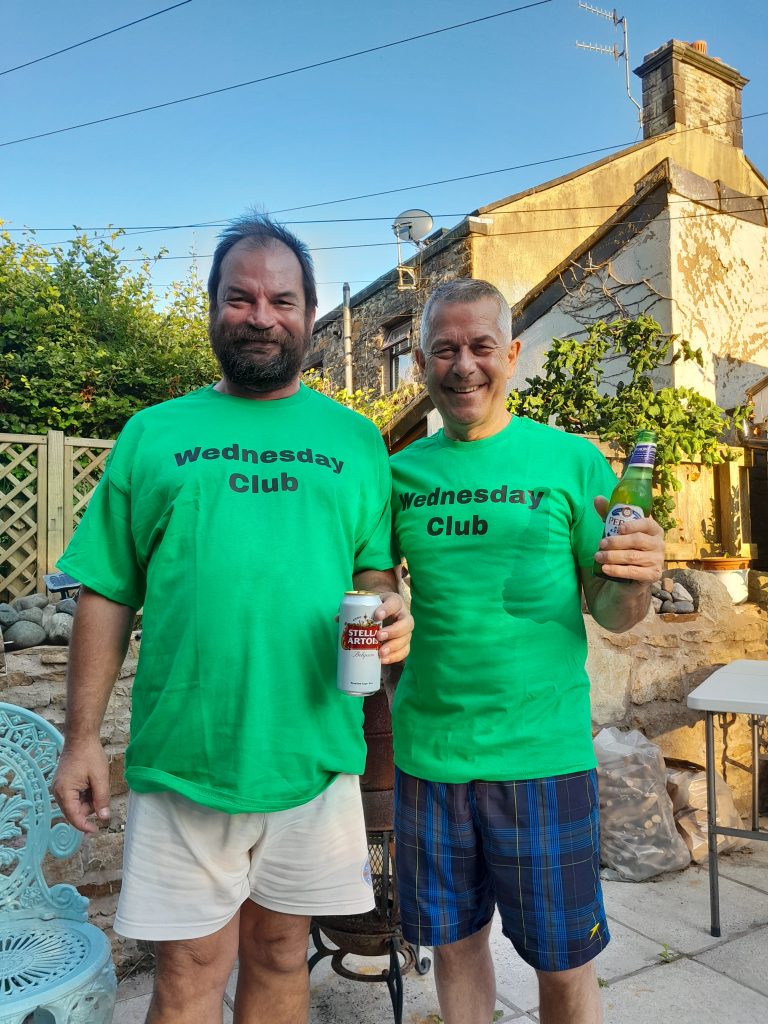 Crikey, it's warm today isn't it. The flip-flops are melting. Folk have been saying this week. Oh, it's warm isn't it. An old lady we passed on a walk the other day said, 'Oh, it's warm isn't it. It's too hot'.
'Too hot! – Damn your eyes old lady'. Cherry silently snarled. I didn't say a word. Then in a beat, a few seconds of fur frenzy. A stifled yelp. And silence, bar the quiet humming buzz of a hazy horizon. What old lady on a walk complaining it's too hot? Cherry burped. We walked on.
You get things done in the heat. Nip to the car to get a phone charger. Wantonly skip to the loo my darling and drink beer in the garden till night envelopes its shady side…
Mr. NIGHT-SHADY: 'You're my old lady in jelly now'
The burgers ran out at Bickerstock – A great wee music festival set for the people created by the people. Free entrance to-boot. Plenty of folk dressed in black, grey beards, mandatory hippie outfits and shit, beer, banter, music and once upon a time burgers.
I sat cross legged on the floor. I stretched my legs. I shuffled to one side. I moved to the other. I was at one with the ground, real ground, turf and grass. I struggled getting up from the ground. I struggled hopping over the gate at the short cut entrance. I struggled limbo-ing under the gate on the way out.
CHERRY: 'We gotta get festival fit'.
She's right. I got a job as a postman, aye Postie Prim. In and out of my Postie van. Up and down the driveway. 'Ooh, no-one home, where should I leave it, round the back… ooh Matron'.
Postman Prim, delivering the goods. 'Would you like a Durban's Bread with that Ma'am?
Cherry and I are now fit to return to any fest in the land. Skip the burger, go straight for a meat and Maris pie and tuck into McHale's Permanent Brew who headlined Bickerstock with a blues set hard to beat across Blighty's well-tuned land.
grounded

the brewing brewing up nicely
I kid you not, if you get the chance, check them out. They are the real deal – check them out here.
So, from Louis Jordan's Beans and Cornbread to Marvin Gaye and Tammi Terrell's Onion – music is a great big piper.
This week sees the return of the Alphabetical Twins at my local, The Cricketers, and I can't wait to lap up that ol' alphabetti-spaghetti.
Tucker and tunes – I should coco.
Till next time… keep 'em peeled
Pip pip, ding-dong and ticketyboo
Keep the world turning, keep it wheel
Prim
It's Time – But It's Gonna Be… is brought to us by Durban's Bread
Also with our good chums Chow Pet Foods
More It's Time…
Similar stories
---