It's Time… Pt19
Written by Prim on 19/08/2022
But it's gonna be… Uncanny
Familiar
I wandered lonely as a hard-boiled egg
That wobbles within its meaty encrusted shell…'
(William 'The Eggman' Wordsworth)
I sit, no 'h' required, and think of an intro to this week's reminisce. I play a new tune my mate sent through and am blown away – I love it… Wergulu Blue – Nettle Leaves (Bread Alone) – my intro is healed – Nurse, go forth and ramble at your will… grrr!
Oddly familiar, as I've been dining mostly on bread recently. And thereby suggest in several senses of its term. My new role in society as a Postman lunches on a sandwich before cracking the Royal duties. Then later a packed lunch for tea on the hoof while delivering the goods.
Then of course I've been dinning out on Durban's Bread for eternity, although dining would be an extravagance, more akin to yet another packed lunch, perhaps a scotch egg.
CHERRY: Durban's Bread now available as PDF & uncut audio and kindle, paperback and polished audio – everyone's eating it!
(can I go now… owoooo – turns to camera with sign saying HELP!)
My daughter is watching Young Sheldon as we speak and asks if it's cold in Texas, 'Hell yeah' I reply, 'I was there once, sunbathing by the pool one day when the locals warned we were in for a cold spell. The very next day it was -15C. Smoking on the balcony makes the teeth chatter. 'hey, did you hear about the one armed frog with no teeth…' The cold snap lasted a full week when, sure enough it was back to budgie smuggling in a blink of an eye.
I walked Cherry early this morn, which lay on similar memories. Summer's mist whipped a wintry spell up the swonicles. Hands in pockets, hoodie up and tied firmly at the chin. Cherry looked snug. I wore a brave exterior and put my best flip-flop forward.
Later I sauntered through one of my new and exciting postal rounds and found myself in Little Holland, so similar was the view.  It's flatness and agriculture sprawls of greenhouses. Days of yonder came flooding back. Working in the bulb factories. Knocking on farms for jobs. Living the flowery life. If ever I feel the urge for a Dutch trip and cannae afford it, I drive to Tarleton and recline in its wistful sights.
sit and think no 'h'

beer dude
The next day I strutted the streets as a foot soldier. It was the hottest day of the year, which for me was a doddle, pure bliss. Dudes I passed partied in their front garden, music blaring, puff smoking, booze flowing. I hailed them a 'whoop whoop', fist in the air, saluting their joi de vivre and continued delivering the goods on the sweaty streets. Two roads later one of the fellas came running after me, slightly alarming, 'wait up' he says', 'run' I say to myself, 'don't make it hard for us pal' he continues, 'got room in there?' I ask a waiting cabbie at No.7, 'hold up' he spurs once more and so I stopped, I'd been here before in Durban's Bread I thought, 'here pal' he says, 'you shouldn't be out in this weather, it's nuts, have a beer man' and presented me with a large bottle of cold Nelson Mandella… I nearly cried.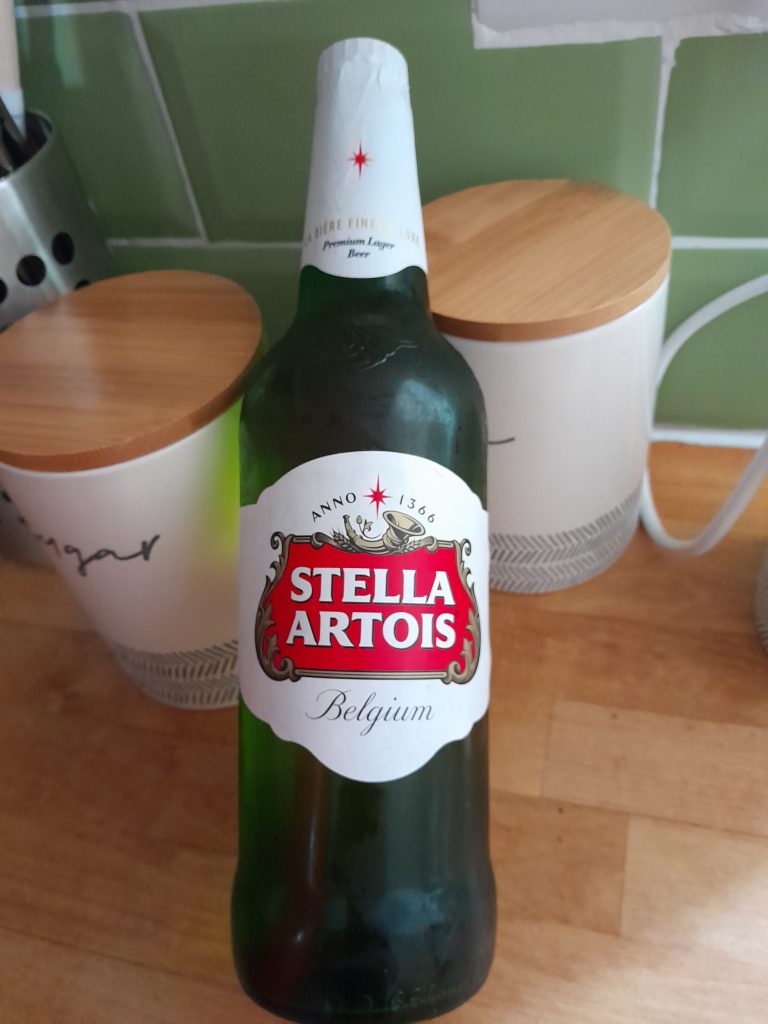 Talking of places that remind you of places… yes we were. As our campervan wound down the hills of New Zealand's South Island, a deep blue wobbly briny emerged beyond the greened hillock mounds. There in that camera's eye unfolded the spit of Blighty's Brighton's South Downs as you approach via the back route, isn't everything so in Brighton. Lo and behold, a sign loomed ever closer… Welcome to New Brighton.
I got up at 3:38 this morning. Well, to be precise, it wound up more like 4:40, after I lay listening to the cottage's creaky doors, or it could have been a ghost because I got up to close all the creaky doors, yet still somewhere in the dark a creaky door creaked, which got me thinking of Wergulu Blue's first ever track The Unshut Door, which to be honest is all just a bit uncanny eh.
real

courtesy of Risky Red – more from him later
The end – haven't we been here before!
Till next time… keep 'em peeled
Pip pip, ding-dong and ticketyboo
Keep the world turning, keep it wheel
Prim
It's Time – But It's Gonna Be… is brought to us by Durban's Bread
Also with our good chums Chow Pet Foods
More It's Time…
Similar stories
---