It's Time… Pt23
Written by Prim on 16/09/2022
But it's gonna be… Beautiful
'Beauty is in the eye of the camel'
Matthew 19:24 on his way home from day time drinking
and now the… Postie Prim and his Black & White Dog bit
We drove content as a scotch egg rolling in its coat of crumbs, 'My work here is done' stirred a subliminal epitaph scratched from absolution.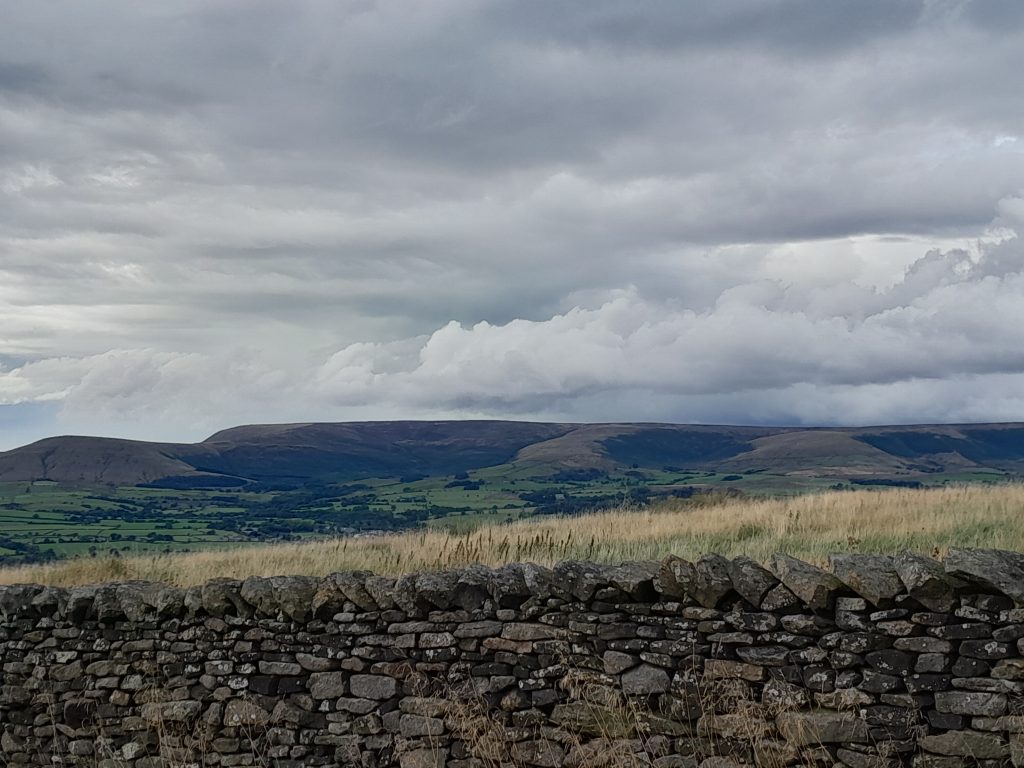 Postie Prim and his black and white dog rolled around the countryside in their beat up red van, inane grins attached. Meandering dry stone walled roads fed through a bulging countryside immersed in animal ether. Familiarity rode shotgun, for each turn provoked a memory, 'You are Entering an Area of Outstanding Beauty' read a sign on a makeshift wooden post, with a picture of the world crudely painted as if by a child, blue and green of land and sea (not in that order). Deja-vu had enveloped the lush mound surrounds.
PRIM: Stonyhurst College country I tell ye Cherry.
Cherry pricked an ear and puffed on her pipe.
A crude low house in the middle of nowhere lurked behind a worn tarpaulin draped greenhouse, long since operational. From a wind-whistled silence a man in wellies, jubilant for the company bounded tither like a Labrador. 'Are you 6a?' I quizzed, 'Aye, that's me.' We both looked about, wondering where No.6 maybe. 'Nice place. Is this Stonyhurst College country?' I ask, 'Aye', he replies. 'Thought so. I played them at rugby back in the mid 80's', 'Oh', he pauses, reflecting on my 'ol' smokey twang' while holding an eye loaded with questionable assumptions. He hesitates then willingly directs in an obliging guffaw,  'it's up that track, head towards the windmills of your mind, turn right for about 3 miles and go through the entrance that never ends until you reach what looks like Buckingham Palace', 'Yes, that's the one' I excitedly glee. We bow to Her Majesty.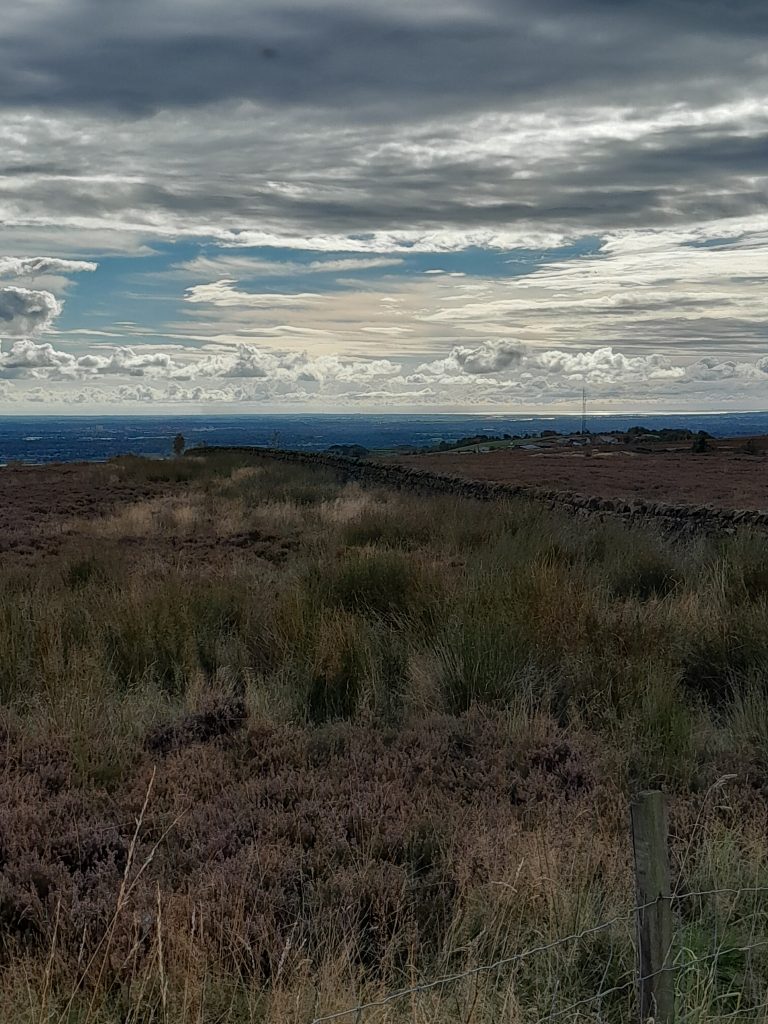 Still bowing he reaches for the parcel. Briefly I hold on. He pulls once more, my hand rigid. He yanks at the parcel thrice. 'Ok, you win, this time'. I returned to the car. Cherry was not to be seen. Moments later her lip-licking chops popped head high at the nearside door window. She clambered in, invigorated, 'you're legs are getting better' me thinks. 'It's all that protein' she thinks back. And burped. A waft of pork scratchings and rubber filled the van. We drove on through Tolkien's inspired Shires. Silence, save the odd slow slurp.
Our next stop found no one home or at least no one answering. About to leave I notice the door slightly ajar (is it a jar or is it a door, that's mushrooms for you folks!). I push, thud, a groan, I push again, more groans, I peer, a man of about his 40's lay sprawled in the hall, right arm clutching a phone. 'You ok mate?' 'I'm not well,' he slurs,' 'Argh, do you want me to call an ambulance? Silence. The Home Guard maybe? Women's Institute… House of Fraser…anyone?' 'Noo, Iii've caaalled an.. ammmblnce… my wiifffe ish cmmming.' I wipe saliva from his dribbling mouth as his cheek rests on the cold tiled floor and put his parcel down next to him to see, 'Hope it's something nice…' he looks. 'Ok, I'll wait here with you,' 'fffnk u' he slurs, slipping fast. I lock Cherry in the van and hope the blonde first receiver from the previous week comes. I was disappointed. 'Thank goodness you're here', says a jolly lady packing medical stuff into medical bags, 'I would never have found the place, then I saw your van', 'Now I'm a believer' I sing. 'Is he ok?' she looks, really asking if I am, 'Yes, seems to be, I folded him into the parcel recovery position.', 'ok, good' she looks again. 'Is my work here done? 'Yes, I'll take it from here, thanks.' 'All in a day's round.' I salute. Cherry re-lights her pipe. We drive on through the green and blue hills.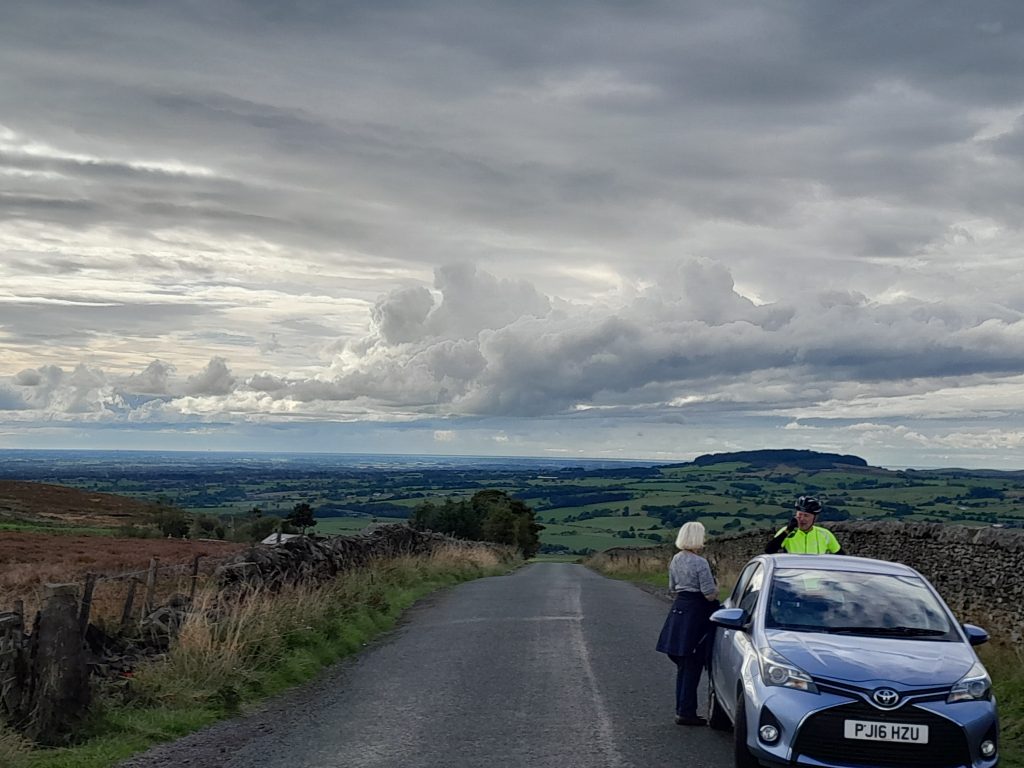 CHERRY: if it wasn't for those pesky first receivers
It's amazing the folk you see on the rounds, only the other day, a couple in perhaps their 70's took a while to open the door. Finally the door flung open, and both were there to greet me, grinning like Cheshire Cats. He donned splendidly in leopard skin budgie smugglers, topped in a cream see through women's blouse; her in purple 'bikini' bottoms with a chiffon slipover, sporting a Playboy pink silk choker – 'Sorry to take so long', he chirped, 'we were just sunbathing.' After a further awkward Cheshire Cat grin pause he says, 'Would you like to slip into something more comfortable?' and smiled, draping a sparkling pair of flip flops over a folded arm, like an waiter displaying a fine wine. 'Cherry…' I yell.
moon makes 'em randy

two new moons

after receiving his flip flops
Back to the News
It would be remiss not to mention the Queen this week. I wonder if she left content as a scotch egg. It's amazing to know who actually remembers the necessary protocol for pomp and ceremony in such circumstances. Perhaps two Chelsea Pensioners, donned with ear trumpets sit and argue where such dignitary should stand, sit, ride, fire… 'In '36 we all wore flip flops you know…'
But what an amazing send off and transition. The unification of humanity. The simple gratitudes borne from daily reminders; I love the buses with the RIP Queen II and her dates flashing on the route planner next to the bus number. The genuine grief or respect or acknowledgment reminded me of being in Thailand when their King died – pure and simple admiration.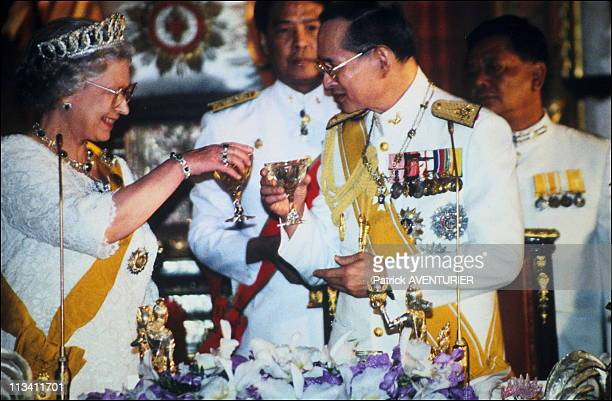 Disaster, my pepper grinder has ran out of pepper.
The coverage of the royal turn-around, as fascinating as it is, is not full telly time. I turn over to find Jamie Oliver suggesting if you don't like rolling pins cut the pastry into slices, like bread then mold into the tin – for fuck's sake, we're mollycoddling kitchen utensilists now. I turn over again to find a beautifully contrived Top Gear Special in Bolivia.
gBack to the royal commentary. Solemn in its earlier days, it perks up ever so slightly as the week progresses. Interesting, nae fascinating backround history is mind boggling and up there with A Round with Alliss or perhaps a Test Match cricket cake.
Prim and Cherry return to the radio and read the classifieds, they look at each other; Wanted; Funeral driver/ bearer – 35quid a funeral. Light bulbs illuminate above. Scottish entrepreneurs Burke and Hare shine above their heads… protein, thinks Cherry.
Meantime… Somewhere on a graveled drive next to a wooden 5-bar gate, a forlorn parcel lay. Patches of rock chippings visibly motionless by disturbance. Bristles of black and white fur whistle off with the wind.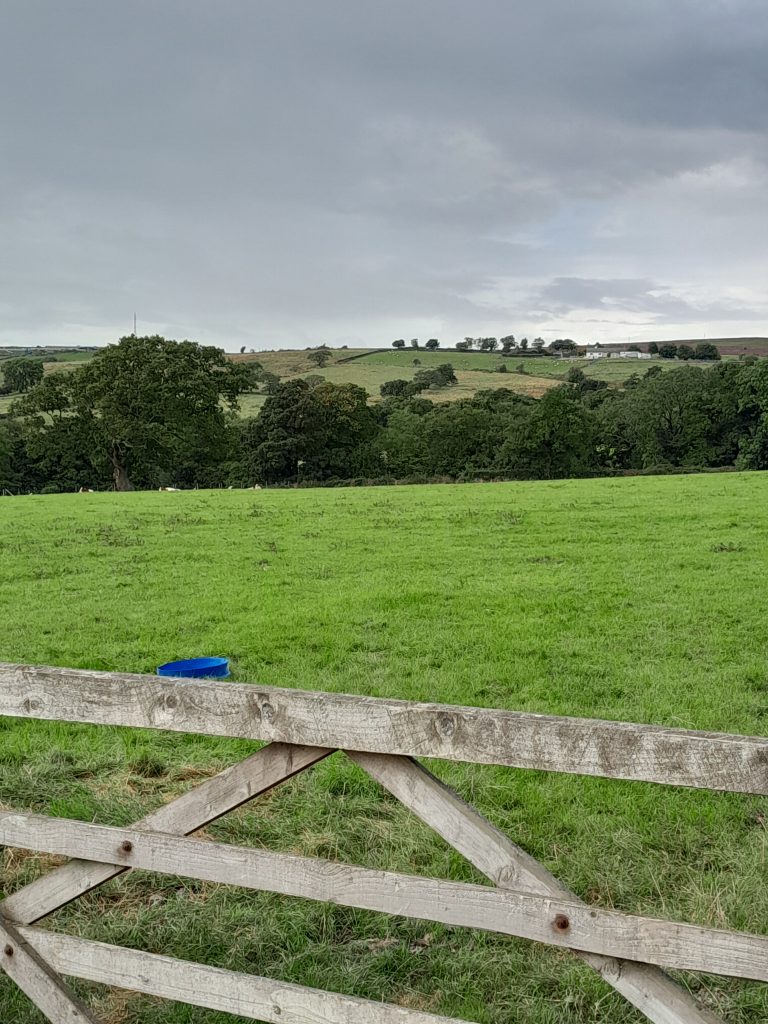 Till next time folks… keep 'em peeled
Pip pip, ding-dong and ticketyboo
Keep the world turning, keep it wheel
Prim
It's Time – But It's Gonna Be… is brought to us by Durban's Bread
Also with our good chums Chow Pet Foods
More It's Time…
Similar stories
---